The danger is on your plate!
Fast food may be tasty, but no one in their right minds will believe for a minute that it's healthy. There are dozens of fast food restaurants in any given area of any city, and it's hard to avoid the temptation of quick, cheap, and easy food. But, if you want to be safe, it's best to avoid fast food as a rule, and the following foods in particular:
McDonald's Big Breakfast — With 1500 calories, 21 grams of saturated fat, and over 2,300 milligrams of sodium, it's a heart attack waiting to happen!
KFC's Crispy Chicken Meal –– Factor in the crispy chicken, the potato wedges, macaroni and cheese, and a biscuit, and you're eating 5,000 milligrams worth of sodium and the same amount of fat you'd get from 29 donuts.
Domino's Chicken Carbonara Bread Bowl Pasta —With 1,500 calories, more than 2,200 milligrams of sodium, and a lot of saturated fat, it's as unhealthy as it gets!
BK Triple Whopper Large Combo — Who doesn't love large fries and a drink? Unfortunately, you're packing a stunning 1,800 calories, 2,400 mg of sodium, and a whole lot more saturated fat than is good for you.
Pizza Hut Triple Meat Italiano ––  This 'za  packs a stunning 1,280 calories in a 9-inch personal pizza, plus 133% of your daily sodium and 28 grams of saturated fat.
Subway BMT Footlong –– In this footlong sandwich, there is more than 3,000 mg of sodium. Add that to 900 calories and 16 grams of saturated fat, and you're in for health problems for sure!
Sonic SuperSONIC Bacon Double Cheeseburger –– Even without the mayo, this is a whopper burger. With 1,370 calories, 36 grams of saturated fat, and 1610 mg of sodium, it's definitely on the list of "least healthy".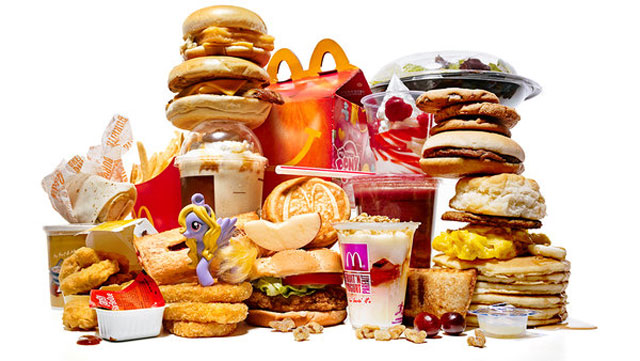 READ MORE: Everything You Need to Know About Fast Food
KFC Chicken Pot Pie –– This may be lower in calories than many of the KFC combo meals, but it's got a stunning 86% of your daily sodium needs. Heart attack anyone?
McDonald's Angus Chipotle BBQ Bacon Burger –– Talk about A LOT of sodium–88% of your daily intake! Plus, you get 800 calories, 18 grams of saturated fat, and 66 grams of carbs.
Wendy's Triple –– Stack the meat high and call a doctor! This monster has 1,030 calories, 1800 mg of sodium, and 28 grams of saturated fat. Definitely not the healthy choice!
Taco Bell XXL Grilled Stuft Beef Burrito — Who doesn't love a good burrito? Unfortunately, with 880 calories and 2130 mg of sodium (93% of sodium DV), it's one of the least healthy options on an already unhealthy menu!
Subway Footlong Sweet Teriyaki Chicken –– Who orders this sweet sandwich? It may only have 750 calories, but with 1810 mg of sodium, it's not worthy to be called "healthy".
Wendy's Baconator Double –– We all love bacon, but could there be "too much" on this burger? With 1840 mg of sodium, 930 calories, and 25 grams of saturated fat, it's a hefty burger indeed.
Taco Bell's Waffle Taco — What a foul-sounding breakfast this is! Think scrambled eggs wrapped in a processed "meat" patty and stuffed into a taco, with maple syrup drizzled over the top. Ew!
Dunkin Donuts Glazed Donut Sandwich –– Imagine a sugar-glazed donut served with an "egg" omelet and a few slices of bacon. High in calories, LOADED with empty carbs, and with almost NO nutritional value, this is a nutritionist's nightmare served on a plate!