Based on the airport you arrive at, the ideal time to appreciate the scenery from an aircraft is during takeoff and landing. Here are the top nine most gorgeous European airports where you can visit and enjoy the most spectacular views!
Additionally, you will observe the contrast between the best and worst airports in Europe. So buckle up and get ready to be astonished by the incredible airports and airfields that will graciously mesmerize you!
Innsbruck Airport, Austria
This airport is situated in western Austria, 5 kilometers from the city center of Innsbruck. The airport is located in a valley surrounded by the Alps in the Tyrolean region. The nearby terrain makes it challenging for large aircraft to land. The largest airplane qualified to land at the airport is the Boeing 767.
This size restriction is caused by the nearby Alps, which generate strong winds. The General Aviation Center at Innsbruck Airport manages business jets, private jets, and air taxis. It also provides excellent service to leisure and business travelers.
Zurich Kloten International Airport, Switzerland
This technologically advanced, calm, and convenient Kloten International airport is only 10 minutes from the soul of Zurich and is a popular tourist destination before or after your flight. It is one of the best airports in Europe, with massive chocolate stores, pleasant lounges, and cooperative staff.
The 'Family Services' suites, where children can easily play, relax, or sleep, are ideal for families traveling with kids, and you even get to watch the Swiss mountains during touchdown.
Nice Airport, France
The magnificent and unique airport of Nice Cote d'Azur hosts numerous celebrities and private and business jets each year. After Paris-le Bourget, Nice Airport has Europe's highest number of business jets!
The airport was built in a partially reclaimed area from the sea, providing a breathtaking view of the coastline and a stunning view of the beaches and bays.
Scilly Isles St. Mary Airport, England
The Isles of Scilly, located in the southwest of England, will provide peace and tranquility away from the noisy urban rush. You will witness this as soon as you arrive at the lovely St. Mary's airstrip! Hugh Town is only a mile from the airport, which is situated on the south coast of the largest island. To get to the other islands, you'll need to take a boat!
Munich International Airport, Germany
Munich International Airport is one of Europe's most stunning and glamorous airports and consistently ranks first in most travel surveys. This upscale airport is always spotless, has excellent infrastructure, and has the friendliest and most supportive staff.
It's easy to use, and the transit time is drastically reduced. Munich is a 40-minute train ride away, and there are regular train departures. There are numerous shops, restaurants, and bakeries that are of the highest quality.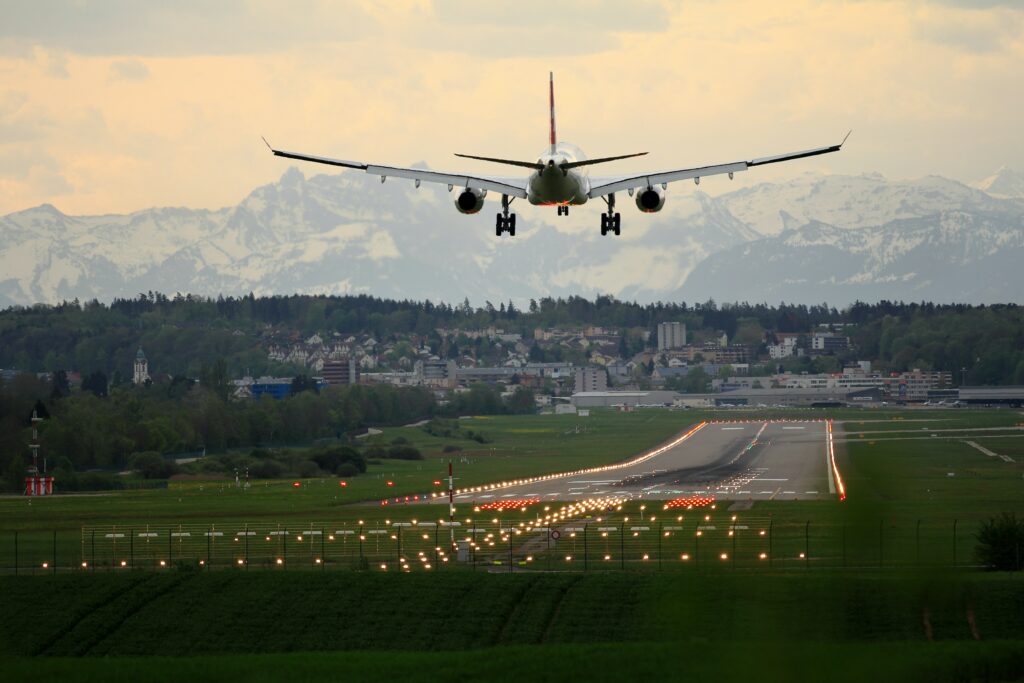 Amsterdam Schiphol International Airport, Netherlands
Despite being one of Europe's busiest international airports that is spread out over a large area with various boarding gates, Schiphol International Airport is very convenient and easy to explore.
It is among the best European airports for multiple stops, with different sleeping options ranging from comfortable seats to couches to makeshift beds. Numerous check-in stations, beneficial signage, and fantastic stores and restaurants exist.
Copenhagen Kastrup International Airport, Denmark
Passengers feel at ease in the light and airy terminal of Copenhagen Kastrup International Airport, which has plenty of indoor trees and padded seating arrangements. The elegant modern architecture, well-planned design, quick security check, and helpful staff make it one of Europe's best airports. There are numerous restaurants, snack bars, shops, and even an Irish pub.
Chambéry Airport, France
In addition to allowing you to land between the mountains, landing at Chambery Airport enables you to fly over the Lac du Bourget. This airport is efficient for those who enjoy winter sports. It is only 6.2 miles from Chambery, the gateway to ski resorts!
London Heathrow Airport, England
With nearly 7.8 million passengers passing through it each year, London Heathrow was undoubtedly Europe's largest airport in 2017. Heathrow is one of the best airports in Europe, with a convenient airport for terminal and transit passengers.
It also features a quick luggage drop, an efficient security check, and helpful staff. Other highlights include numerous shops, including Harrods, and excellent dining options.
This post is sponsored, but falls in line with our editorial goals and values.